Machinery capacity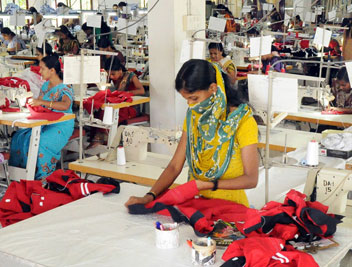 The first unit was started in 2007 which is located in the heart of the city and is easily accessible as it is just 1.5km from bus stand and Railway station .
Our second unit is located at Chala, near NH 17, which is 6km away from Kannur city.
And third unit is at Cheruvathur in kasaragod District , 55km north of Kannur.
All the above 3 factories are equipped with most modern state of Art JUKI single and double needle machinery and other equipments imported from Japan. There are also special machineries like Bar tack machine, Button Hole Making Machine, Button fixing Machine, Saddle Stitch Machine, kansai machine, feed of arm fusing Machine, computerized Sewing Machine, over lock, Heat seal machine, Tajima embroidery machine etc ...
The machine configuration is flexible -to manufacture shirts/tops, sleepwear, bottoms, Made ups etc.
All the units have well equipped Modern Pattern Making Department. Samples are developed as per buyer requirement with utmost care and precision. These departments are headed by an experienced Pattern Master.
The cutting department with Eastman range of Band knife and Straight knife cutting equipments. There is a proposal for automatic fabric spreading and marking equipments. These departments are looked after by Cutting Master and experienced assistants.
All the units have well equipped sewing lines with state of art sewing machines and are handled by experienced Operators and Supervisors. The state of art finishing department, have Ramson Vacuum Boards with steam facility thread sucking and spot washing machine and automatic thread trimmers.
The units have latest fusing machines ,bartack machine , Saddle stitch machines, Heat seal Machine , Khaja Buttonhole and Button fixing machines The embroidery department is in the main unit of Thana. It houses a modern multi head 9 colors Tajima Automatic Computerized Embroidery Machine and it is operated by an experienced operator who can develop any complicated design.
Efficient quality control system is in place with modern tools. Each operator's defects are monitored and corrective action taken then and there. There is an in house full-fledged lab and all deliveries are checked as per buyer's specification. The checked products are packed as per buyer's requirement and stored in a well maintained warehouse.
Product Design And Development
Our core strength is in developing designs as per buyer requirements and industry standard. For product development we have dedicated, knowledgeable, qualified product development team and they are capable of developing any types of designs
NIFT
National Institute of Fashion Technology NIFT, is having its 8th centre in Kannur which is only half an hour drive from our factory and we can very well make use of their expertise and service within short period which is an advantage