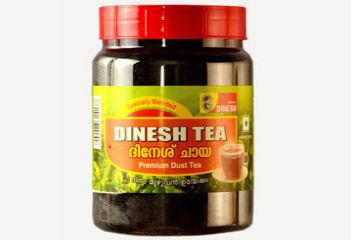 Our Tea Dust Unit is working at Chalad in Kannur. Dinesh Tea- A perfect blend of Assam and Nilgiri teas from different Top Tea gardens. It keeps you fresh the whole day. Quality and cost effectiveness are the two main gradients of Dinesh products. These are the major factors triggering the consumer demand for Dinesh products including Tea Dust. Dinesh food have been certified by FSSAI. Stringent quality control system is in place to make every product perfectly safe. We are following HACCP standard to ensure 100% food safety. Food safety officers are summoned to inspect the ingredients composition in each batch of the manufacturing unit to promote healthcare and wellness. These products are later dispatched to the Govt. Lab for further inspection and it is only after passing the Govt. certification for quality tests, that these will be preceded for packaging.
Product Availability
Packing: - 100gm, 250gm Pouch & Pet Jar, 500gm, 1 Kg
Dinesh tea is also available in Hotel Blend formula for restaurants.