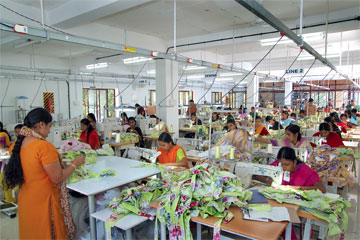 History :- Dinesh Apparels was established as part of the diversification program of Kerala Dinesh in 2007.We at Dinesh, providing Export quality apparels at Domestic price range. Our Quality standards are certified by ISO 9001-2008 SA8000 - 2008 and DISHA (done by Apparels export promotion Council).Well trained manpower and full-fledged lab for inspection, assures quality standards resulting in customer satisfaction.
Specialities :- Our range of apparels is common man's choice of clothing, for the cost effectiveness that it offers. The specialties includes Silk Shirts with Silk Board Certification, Ladies Fashion Dresses, Kids Fashion Designer Dresses etc.- which are designed by expert designers. A discount of 25 to 50 % is the highlight of Dinesh Apparels.

Dinesh Apparels is an export oriented garment unit with state of art machinery and equipment to suit the latest Industry standard. The product range varies from cotton, synthetic, linen and silk shirts for all ages and currently exporting to UAE, Denmark, Israel etc. We also manufacture Denim Shirts

There is also an export unit that export majority of the productions to Europe, Dubai and Germany. Cotton, Synthetic and Silk Shirts are widely in demand in these markets. The Silk Board has certified the "Golden Oriole Shirts" for the quality of silk material that is used in its production process. This is for the first time in history that a branded silk shirt has been awarded with this quality certification. Dinesh Shirts are marketed under the Brand names Dinesh Duke and Dinesh Jamjack. Cotton Bed sheets are available under the Brand Names Flamingo, and Kerchiefs are also available under the brand name Blue Pancy.
Dinesh apparels is exporting about 100% of the products to middle East and Europe .The product range includes kids and gents shirts , pyjamas,ladies top , shorts and many more.
Dinesh apparels division have 3 garment factories with 350 workers